Green Day: Rock am See, Konstanz - Recap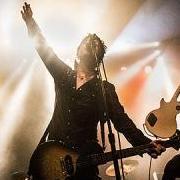 Entry posted by solongfromthestars ·
850 views
This felt like it was months away... then suddenly we were leaving home with our suitcases. It took us about 16 hours to get there in the end. I got food poisoning and passed out on the way. When we got to Konstanz, border protection dragged us off to a room where we were ordered to put our bags on the counter and empty our pockets. A guy grabbed our passports and got on the phone to someone. Then the woman put some latex gloves on, stretching her fingers and staring straight at me. Oh my God.
Well, I think the drug smuggler in there was the only thing that saved me just there. They all had to run over to pin him down and one hurried back over to tell us we could leave, have a nice stay in Konstanz. Phew. This was all for no apparent reason, of course. I got a rash from being searched with the latex gloves but that could have been much worse...
We got to the festival about an hour before the doors opened and managed to get a good view on the second barrier. This was my first festival so I wasn't sure what it'd be like, but it wasn't as bad as I expected at all. Itchy Poopzkid were the first band and they were actually alright. I probably liked Jupiter Jones better but nobody really seemed interested in them.
They were certainly both better than Angels and Airwaves. No offence if you like them, but why is it necessary to have some sort of space noise in every song? They sounded like a cat whining to a bad sci-fi soundtrack. I was glad when they finished.
Kraft Klub were next. I knew they have some issue with Green Day, but I'm ashamed to say I don't speak a word of German, so I didn't know whether they were yelling "fuck you Green Day, Billy Jo is gay!" or not. So... yeah, I couldn't really enjoy their set, although they were alright too and definitely got the crowd going.
I was looking forward to Flogging Molly, I'm just a casual fan who doesn't know all the songs or anything like that but I do like them. They were great, they had loads of energy and got the crowd going too. I never thought they'd play Drunken Lullabies which is the song that got me into them, but they did! That was awesome, the first time I was actually able to sing along and felt like dancing. A while later the singer dedicated a song to Billie. He said Green Day are a bunch of jackasses that never fail to surprise you or something like that, haha. Seems like they were glad to see each other, anyway.
I'm not a fan but I felt bad for Social Distortion. They were definitely the least appreciated band, hardly anybody was getting into their set. I wasn't really into them either though, maybe I'd have liked them better if I knew their songs.
And then, after standing all day long, it was finally time for what we'd all been waiting for. Green Day ran onstage and opened with Welcome to Paradise. It was amazing to finally feel like really dancing and singing.
Let Yourself Go was awesome! Loads of energy, a great live song. People seemed to think I was weird for singing along, but I didn't care. Most people knew Oh Love already. It's a real anthem live.
You probably all already know how I feel about Letterbomb and how the people around me get deafened/knocked out so I'll just leave you with that. I really hoped they'd play Knowledge and get people onstage, so I screamed and screamed when Billie asked for a drummer even though I knew I was too far away. Of course I didn't end up playing, but still cool to see that they're doing that again.
They seemed really into the Wall of Death thing here, I think they did it three times in Green Day's set, including at the beginning of She which was... different. I remember shouting "no thank you, Billie!"
I videoed King for a Day since that was the first time I wasn't so bothered about watching, but the sound on my phone sucks unfortunately. I'll upload it if anyone wants to see it though. Mike sang in Shout again, which was cool.
Minority was great, but I knew that indicated the last part of the show so it was kind of sad, too. I really enjoyed 99 Revolutions that night, it didn't seem as repetitive at all. Every time I thought they'd finished, Billie yelled "one more time!" and they played the last chorus again. Awesome.
I still think Good Riddance is the perfect closer, I wasn't sure when I saw Billie came back but once he started playing I remembered what a special moment it is. I think I'd just started crying when a woman in front of me climbed on someone's shoulders and directly obscured my view. Spoiled the moment a bit, but still, it was really special to see that again.
I don't know why you always hope that they'll come back, even though you know they've finished. Well, they hadn't quite finished. I looked up and saw Billie - nude except for black panties - running offstage. I missed the bum-viewing, but yeah, he'd just put his ass away and was running off again. Priceless.
It was an awesome show, worth all the waiting and the crazy journey. Billie did seem tired but he still put everything into playing. I'm so glad I went... but sad that it's over now.
So that was that. I wanted to write more but the setlist was quite similar to London and I don't want to just repeat what I said in that recap. The next day we went sightseeing with some other GDCers which was awesome, too. It's amazing how Green Day brings people together - people who understand each other - who'd never normally meet.
Photos from Konstanz (the town, not the show) are here in my art thread.

3