Green Day: O2 Shepherd's Bush Empire, London - Recap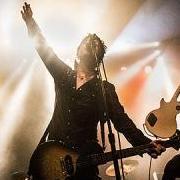 Entry posted by solongfromthestars ·
1,000 views
Posted this in the London thread, but here it is in case you missed it. Recap of the awesome London show as I promised!
We got up at 3am to make sure we caught the bus. It was about 7am when it finally left and we didn't really get any more sleep. We met up with Liam at the bus station and managed to find our way to Shepherd's Bush on the tube, then joined the queue. I was number 56. It just wouldn't sink in that we were going to see Green Day later.
It was awesome to hang out with other GD fans, it really makes lining up so much more fun. Although it was a shame the big meet-up couldn't really happen because of how the queue was.
The Green Day cars arrived, the Jasons and Jeff all piled out and Tre waved to everyone. It seemed like forever until the doors eventually opened and a few people were pushing into the queue who'd only just arrived. But finally we got in... and me, Joy and Liam all got the barrier on Jason's side. The microphones and Tre's kit were sitting expectantly on the small stage, the lights low and so fucking close. I'd been on the barrier before but not at a show like this. It was unreal to think that in a couple of hours, Green Day were going to stroll onto that stage.
The wait for that seemed like forever, too. We watched techs test the drums and the guitars, put the missing mic neatly in Billie's stand. The crowd clapped and chanted but still nothing happened. Song after song played on the speakers.
Then suddenly the music just stopped. The lights dimmed completely and there was Tre, walking onstage to Billie's place. And announcing that Billie has laryngitis but no worries, he's here... playing All By Myself. But Billie (who of course was perfectly healthy) followed with a cheeky look on his face and went to play the drum kit. What a crazy and awesome opener.
The rest of the band joined them and they started with Welcome to Paradise. Burnout. Everyone was screaming, but it was only just beginning. Know Your Enemy started to really get everyone going, jumping up and down and moshing. In the solo Billie ran over to our side and locked eyes with me for a few seconds. He really smiled and it was so awesome to see that he still remembered me.
Nuclear Family is fucking incredible - definitely one of my favourites from the new songs. I know we've already heard HQ recordings of it, but you can't really get the full experience until you've seen it live. I really hope they open with it on the full tour... it'd be one of their most amazing openers yet. It has so much energy, the line "gonna ride the world like a merry-go round" is perfect to describe the whole song. Or maybe that doesn't make any sense at all if you haven't seen it yourself.
That was what really set the crowd off too. I was rammed into the barrier and drenched in sweat (my own and everyone else's) but in a way, it's not a gig without that. I think that was when it really started to get going.
Stay the Night is obviously an amazing one too, I feel like I already know the song so well but it was the first time I actually saw it live. Billie's definitely right in joking that everyone already knows all the words for an album that isn't out yet!
I really loved Stop When the Red Lights Flash, I couldn't believe they played it. I can't always get into a song without knowing the lyrics, but this one was definitely awesome even though the crowd only seemed to know "I'll make you surrender" from the chorus.
Oh Love is brilliant live with everyone singing their hearts out, I can see why people who weren't into the album version feel differently about the live one. Lady Cobra is good although not one of my favourites, it has a great (and not repetitive) chorus. You've all already heard it courtesy of DJ Armstrong on Radio One so I'll leave it at that.
Holiday is always an anthem, no matter how many times you see it. I never get any less excited about hearing "the representative of (place name here) has the floor". Which in this case was England. Awesome.
Oh my God, Letterbomb. It was creepy because when Holiday ended I was thinking "they should follow this up with Letterbomb, that'd be the best thing ever" and a few seconds later, Billie started playing it. I couldn't believe it. But anyway, this is one of my top three favourite songs, ever. I was stood here at this tiny secret show in London and fuck, they were playing fucking Letterbomb. It was just as special as the first time I saw it. I'm sorry if any of you guys were the people surrounding me who had to deal with my enthusiastic singing and dancing. I probably knocked several people out. Just kidding of course.
In Hitchin' a Ride Billie did his "new dance" which I'll direct you to in video format at the end of this recap, then complained that he'd tired himself out. He seemed so happy and excited, though.
2000 Light Years Away never gets old. That song has become so special to me because of personal stuff, I was so happy that they played it. They played mostly older songs after that, like Going to Pasalacqua, Brain Stew, St. Jimmy, She, When I Come Around...
The crowd did get quite violent although I don't think it was anywhere near as bad on our side. The guy next to me was trying shove me out of my place and kept elbowing me/shouting at me when I tried to stop him, and there was one behind who just kept throwing himself into people. I was really squashed at this point and hadn't been able to breathe properly for a while, but the great view was worth it. It's so easy to let those people ruin the night for you, but I knew better this time. I just ignored them, firmly protected my place and kept enjoying the show.
I must admit that I'm beginning to agree with the people who say King for a Day should be dropped, I'd much rather have seen other songs that night. It was great to see Mike and Jason dancing again though, haha. Minority has never been one of my favourite songs, but it's always amazing live and was no different last night.
The encore was American Idiot and 99 Revolutions, which sounds so much better in reality than it does on the live Summer Sonic version. I thought it was a bit dull there, but although the chorus just says "99 revolutions tonight" over and over, it's really catchy and has loads of energy. A weird closer, but an enjoyable one; and a great anthem for everyone to sing along to.
Then suddenly it was over, at exactly 11pm. It's somehow easier to take in when there's an acoustic song like Good Riddance as a closer... but I think with it being 99 Revolutions we were all somehow waiting for them to come back. Of course they didn't though, so we went to buy merch, all feeling half-dead, and eventually had an adventure trying to find somewhere to sleep until the bus station opened. It ended up being a cold bus stop. We do things for this band that we'd never normally do in reality...
6