Nico Talks About Creepypastas #3 - Jeff the Killer
Entry posted by MrNico666 ·
665 views
Quote

OMINOUS UNKNOWN KILLER IS STILL AT LARGE.

After weeks of unexplained murders, the ominous unknown killer is still on the rise. After little evidence has been found, a young boy states that he survived one of the killer's attacks and bravely tells his story.

"I had a bad dream and I woke up in the middle of the night," says the boy, "I saw that for some reason the window was open, even though I remember it being closed before I went to bed. I got up and shut it once more. Afterwards, I simply crawled under my covers and tried to get back to sleep. That's when I had a strange feeling, like someone was watching me. I looked up, and nearly jumped out of my bed. There, in the little ray of light, illuminating from between my curtains, were a pair of two eyes. These weren't regular eyes; they were dark, ominous eyes. They were bordered in black and… just plain out terrified me. That's when I saw his mouth. A long, horrendous smile that made every hair on my body stand up. The figure stood there, watching me. Finally, after what seemed like forever, he said it. A simple phrase, but said in a way only a mad man could speak.

"He said, 'Go To Sleep.' I let out a scream, that's what sent him at me. He pulled up a knife; aiming at my heart. He jumped on top of my bed. I fought him back; I kicked, I punched, I rolled around, trying to knock him off me. That's when my dad busted in. The man threw the knife, it went into my dad's shoulder. The man probably would've finished him off, if one of the neighbors hadn't alerted the police.

"They drove into the parking lot, and ran towards the door. The man turned and ran down the hallway. I heard a smash, like glass breaking. As I came out of my room, I saw the window that was pointing towards the back of my house was broken. I looked out it to see him vanish into the distance. I can tell you one thing, I will never forget that face. Those cold, evil eyes, and that psychotic smile. They will never leave my head."

Police are still on the look for this man. If you see anyone that fits the description in this story, please contact your local police department.
Hello everyone! Welcome back to Nico Talks About Creepypastas. After seven and a half months. Yay. Anyway, that quote up there is an excerpt from a local newspaper (location unknown). TL;DR: it's about a boy that almost got killed by someone, or something. This story is one of the most famous creepypastas out there, and it's called Jeff the Killer.
You might be thinking, "One of the most famous creepypastas of all time is just a boring newspaper excerpt? What the fuck man?" But that's just the beginning, a prologue. The real story begins now... if you want to read it for yourself, the link is at the bottom of the post.
Day 1 - Moving Into a New Neighborhood
The story is mainly about a teenager called Jeff and his family. Jeff, his brother Liu and his parents Margaret and Peter had just moved into a new fancy neighborhood.  Their neighbor Barbara comes in and introduces herself and her son Billy. And all of a sudden Jeff's family were invited to Billy's birthday party. Well that was fast. Jeff however didn't want to go, saying that he's "not a dumb kid." In the end, he was still forced to go there though. He went to his room, when he got a weird feeling. He just brushed it off as some random feeling.
Day 2 - Gangster Skaters
On the next day, Jeff and Liu were ready to go to school, but not before Jeff got that feeling again during breakfast, stronger this time. Once again he just brushed it off. They went to the bus stop, when these three kids Keith (skinny, dopey face), Troy (the "fat kid") and Randy (the leader of their little gang) barely jumped over them with their skateboards. Probably thought they were the shit. One thing led to another and all of a sudden one of the skaters pulled a knife out and took Liu's wallet. Jeff got the feeling again, but it was WAY stronger this time, it was so strong he got up and, out of anger, broke Randy's wrist, threw him to the ground and stabbed Keith in the arm with the knife the skaters had. He also punched Troy in the stomach, and that was enough for him. That escalated quickly. Only problem: the bus was coming. So Jeff and Liu ran away as quickly as they could and just went to school, not telling anyone what had happened. When school was over and he got home, Jeff told his mother in a "somewhat ominous" voice that it was a wonderful day.
Day 3 - Taking the Blame for Jeff
On the next morning, two cops knocked on the door. You guys probably know why. Jeff said that it was him and that Liu tried to stop him. I mean, that's what happened. But then Liu chimed in and took the blame for him, and while Jeff tried to convince the officers that he beat the skaters up, they took Liu away. Jeff wept in the driveway for the next hour, meanwhile his dad pulled in and asked if he was okay. He couldn't answer because his vocal cords were strained from crying so much. He was emotionally scarred that day. The next two days, nothing happened, so we're going to skip straight to day 6.
Day 6 - Billy's Birthday Party
Now, this is where shit goes down, I'm telling ya.
Jeff actually forgot about the birthday party, and still didn't want to go. He put on a white hoodie and some jeans and went there with his parents, who were dressed much fancier. His mother was in a dress, his father in a suit. They got to their neighbor's house, and Jeff was told the kids were out in the yard. A little kid came up to him with a toy gun and a hat and wanted him to play with the others. He reluctantly agreed, and for some reason actually had a little fun. Until he heard Randy, Keith, and Troy on their skateboards...
Randy told Jeff they had some "unfinished business." That can't end well.
FIGHT SUMMARY:
Randy and Jeff both fall to the ground after Randy rushes at him, Randy punches Jeff in the nose. Jeff headbutts Randy. They both stand up. Troy and Keith pull guns out. Randy stabs Jeff's shoulder. Randy kicks Jeff in the face. Jeff twists Randy's foot. Troy throws Jeff through the patio door. Randy repeatedly kicks Jeff until he's coughing up blood. Randy throws Jeff into the kitchen. Jeff stands up, blood and vodka on his face. He gets that feeling again, which this time causes him to snap. HE'S LOST HIS MIND. Jeff piledrives Randy to the ground. Jeff punches Randy into the heart. randy dies. Jeff gets guns pointed at him from Keith and Troy. They run into the bathroom. Jeff bangs the towel rack into Troy's face after Troy missed with the knife. troy dies. Keith throws Jeff into the wall. An open bleach bottle falls down on them (okay seriously, what the fuck why would you have that bleach bottle open). Jeff rams the towel rack into Keith.

I'm gonna stop the summary right here, even though the fight isn't over. Because now something happens that I want to summarize in detail. So, Jeff's body is full of bleach and vodka, and Keith is bleeding to death. In his final minutes, Keith pulls out a lighter and laughs. Think about that; Jeff has bleach and alcohol all over him, and Keith has a lighter in his hand. What happens next? HE THROWS THE LIGHTER AT HIM. The vodka burned him, the bleach bleached his skin (who would've thought?). He passed out...
In the Hospital
I don't know how many days later this is, so I'm leaving the day number out. Jeff woke up in the hospital, a cast wrapped around his face, stitches on his shoulder and a tube in his arm. He tried to get out, but of course that wasn't yet possible. His parents were there... and also Liu. Because after the witnesses told the police how Randy attacked Jeff, they decided to let Liu go. Not much later, the doctor removed the cast from his face. His face looked HORRIFYING. I'm not gonna show it to you just yet, just wait until the end. Anyway, he went to the bathroom to look at it in the mirror. Despite everyone's thoughts, he said it didn't look that bad. Actually he said it was perfect. Quote: "I've never felt more happy! Ha ha ha ha ha haaaaaa, look at me. This face goes perfectly with me!" Well... according to the doctor, behavior like this is perfectly normal for patients that took a lot of pain killers. I guess that's fine, we'll just take him home then. It's all good... or is it?!
t̜h̰̹̮̭̀̀ͅè̼̺̰͓̩̺ ҉̰̻̜̕f̴͔̻͉̟̘i̫̱̻n̶̮͕͍̮̖̰͖͓̪͞a̦̝̠̬̳͘l̷̡̬̗̠̬͖͔̣ ̧̣̩̤͎̀n͏̱͉̰̥̝̬͖̻͞i̜̩g̷͇̬̗̼̝͍̰͜h̴̢͖̼̙t̢͏̺̹͕̬̦͚͕̹͉
In that same night, Jeff went into the bathroom to put some "finishing touches" onto his face. Just normal things, like carving a smile into his face so that he could smile forever, and burning out his eyelids so that his eyes would never close. Seriously, who hasn't done that before? His mother backed off, realizing Jeff's gone insane.

"wh̷͜a͘͝t̶'s͏̷ ͏ẁ͝͏r͏̶o̸̢̢ń̵g̀́͟ m͝o̕m̢̛͞m̷͡y̡͏?͜͜ á̪͇͍̭̯̙͢r̸̛̮̘̬̳͖̤̬͓̻̹̝͉͡ȩ̵̫͚̠̮̤͔̺̤̤̱͚͓̰̣̜̹̮͕n̷͏̵̫̟̗͎̞͇̘̰̠͡'̵̸̭͎͎͕͈͟͡t̶̢̙͈͙͚͇͕͕͚̩̗̦͢͢ ̶͓̲͉̝̟̰͇͚̭̲̘͔̕͢͠i̶̡͎͙̪̘͉͉̼̤̤̻̪̬̤̣̕͡ͅͅ ̶̵҉̢̛͔͖̜̲̼̼̤̩b̢͙̰̙̪̱̬̹̠̻͓̯͓̲̮̘͈̕͝͡ͅe̴͠҉̡̮͉͙̰͡à̷̲̱̜͇̺̕͠u̵̫͎̭͖͚͕͞͡t̵̡̺͉̩̬̘͇̟͍͍̗̘͔̲͙̮̦̰́̕ͅì̡̯̥͕̲̤f̛̱͉͍͓̘͉͘͟͠u̷͚͖̰̗͓̫͈̭̟͎͝l̟̟̹͚͙̹̜͙̕͟͝͝͞?̶̩̻̩̺̯̭̗͇̫̯̪́͡"


 
well... there's only one way to answer this. "Yes son, you're beautiful. L-let me go get Daddy so he can see your new face!" She instantly woke her husband up, saying that he should get the gun. Apparently to get rid of him or something. However, they didn't notice. They did not notice that Jeff was listening.
M̥͔̖͕̲̱̪̮̝̖̝̝͔̲ͧͭ͊̄ͮ͊̃̾̌ͮ͋ͭͥ́̕͟͡͡ͅȏ̦̝̹̼̫̩ͧ̎̍̽̄̀ͥ̑͐́͐̅̓́͟m̸̢̡̢͎̟͙͒̂̉́͝m̶ͫ̔ͣ͌ͪ̃̈́ͩ҉͘͞҉̺͕̟̫̗͖̥y̵̶̢͍͖̝͓̣͉̦̩̰̠̯͉̭͍̜̣̰̖̔͊̔͐̌ͨͦ̉̍ͩ͗̓̊̌̈́ͬ.̵̵̨̟̗̭̭̭͉͍̫̹͔̖̯̜̥͍͙̱̽͋͐̐̆̐͌͌͂̒͗̌͊̅͜.̶̭̙̬̳̽̉̏ͮ̕͠.̼̬͉͙̖̥̉̈́̉͌̊̕̕ ̵̟̯͉̬̮͚̞͇͚͈͙͇̈̑̏ͨ̅̐̇͌̆ͫ̎́̌ͥ́̇̚͢͝y̸̵͈͉̼̺̗̠͕̭̰̮͓̘̠͍͙͎̙̾̀̉ͯ̐̉ͨ̓͝ͅo̶̢̫̟̬̩̫̯͖͙͎̰̦̺͚̤̥̩͓̳͎ͣ̽ͭͯͤͤ̑ũ̧̡͖̠͎͚̦̜͆̌ͭ̿̐ͪ̊ͪ̊͝͡ͅ ̵̧̢̲̠͓͉͔͍̼̩̣̻̥̪͍͕͔̈́̅͒͒͂̓͆͆͗̿̃ͨ͛͡l̡̒ͤ͗̓̔̊̓ͩ́̀͢҉̼͙̭̺̥͚̪͓͎̠̙̬̦̘̫͍̜̫̯i̛̜̩̹̪͔̝̻̦̙̼̠̮̐͂̎̀́̚̚ȅ̶͔͚͔͔̗̥͖̳̣͎̼̣͍͚̼͛̏̍͂̔́̀̉̋̂ͮͫͧ͜͡d̂̐ͭ̏ͧ͛̚҉̛̘̖̯̼̰̫̜̝̥̩̘̹̞̯͎̭͞͝ͅ.̭̼̭̜̲̝̼́̃̑́͊ͣ͌ͨ̏̒̄̔ͪ̋̀́.ͧͥ̀ͧ̀͏͜͏̛̞̥̻͎͔͖.̃̋ͫ̉̍̃̎͛̈͒̉̑̒͆̓҉̨̼̟̦̝̞̣ͅ
Right afterwards they were both stabbed by him. Liu woke up because he heard it, but he didn't know what it was, so he just went back to sleep. Right before he was able to, he got a feeling. Like somebody, or something was watching him. He looked up, saw Jeff ready to stab him as well. He tried to fight against it, until Jeff spoke the final four words.
shhhhhh... just go to sleep.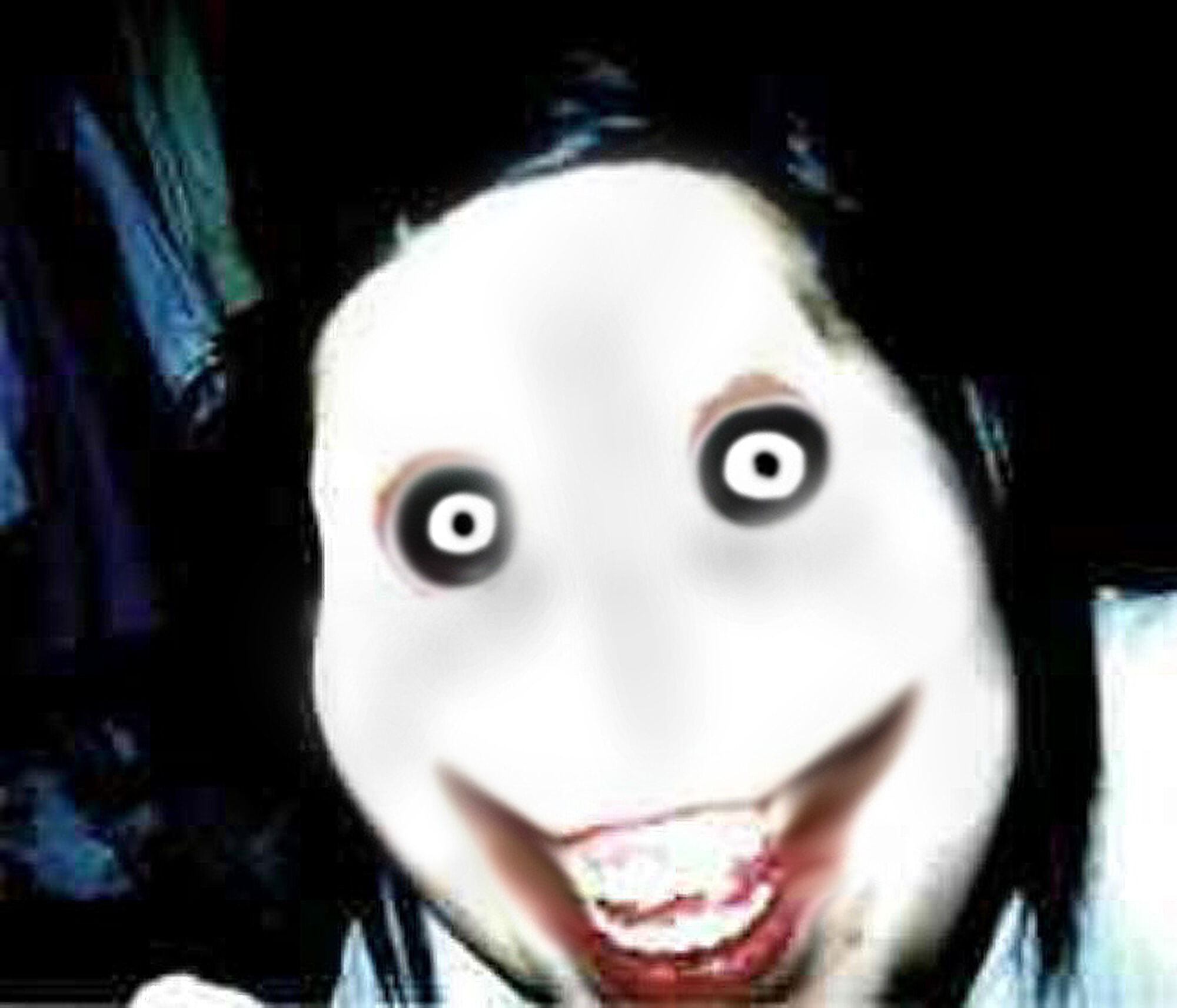 ---
Original Creepypasta: https://www.creepypasta.com/jeff-the-killer/
Next up: probably "The Russian Sleep Experiment"