Reasons why everyone should appreciate Green Day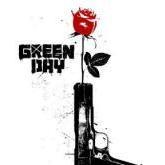 Entry posted by greendayberlin ·
302 views
Who else thinks that today's "music" is stupid? raise your hand!
Yes, the "music" that we have today is, actually to some, considered not music, because all it actually is, is mashed up sounds to create a tune.                                                                                         When was the last time you heard a new song from 2016, 2017, 2018 on the radio which actually used a proper instrument like guitar or so?
I'm talking about songs like "the middle" by Zedd that blew up on radio stations this summer or Ocean by Martin Garrix... I don't hear any actual Instruments! Okay, sometimes you hear piano or drums that are also mushed up to sound kind of more electrical. I hate it!😫
With Green Day, you have something for everyone and the best thing is that they still use actual instruments! It is a way for everyone to hear what proper instruments sound like. Sure they have maybe the one mashed tone, but the song isn't made out of it, you can still hear and recognize the instruments. They do it in way that sounds cool, people can relate to their songs, the songs have powerful messages that are different from the cheesy songs you hear today. Green Day has something for everyone, some of the newer generation might not hear it and understand it yet, but here on the Green Day Community, where true GD fans are, all understand what Green Day's music is.
Green Day might swear a lot in their songs, it's still real music unlike today's.
Why everyone should appreciate Green Day.
They are actually real people not plastic image people like today, do mostly or always live singing not playback! Use real instruments on stage not a DJ playing in the background.
Green Day might seem a bit weird to some people, but those people can go piss off.  Green Day have their moments of being crazy, but would ya just take a goddamn look at Justin Bieber!
We all should appreciate GD for still being original, and so we do!
Now all the musicians who haven't made it big out there, basically the people who play for friends and family, the private ones, you know what I mean? Anyway, they also mostly use instruments, which is good!
but all the big famous ones always, always, always use this mashed up shit to create a song. Green Day doesn't.
Yes, we all love Green Day here. 
Which of the modern artists' music do you hate the most? 
I hate Justin Bieber all the way to hell, I hate him so damn much I can't even explain how much I hate him! 
Thank god Billie isn't Justin Bieber😀
By the way, I also hate Eminem. 
Sorry if you like one of those two artists, it's just my personal opinion.                                                                         
1