Green Day are clones! - Creepy Pasta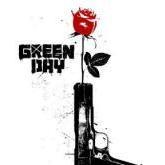 Entry posted by greendayberlin ·
175 views
It was Saturday, before the Green Day Revolution Radio show was going to begin. I was so excited since Green Day was my favorite band. I had this great plan to sneak to the front, by that I mean right in front of the stage, right there where I could touch Billie's leg if he were standing right on the edge of the stage. And so, I showed up super early, 6 hours before the show would start I waited near the fence where Green Day's tour bus was behind, they had one extra bus though, it looked kinda deserted, run down, dirty, broken and creepy. At first I didn't think much of it, I thought maybe it was just an old bus which they were using or it was just left behind and Green Day just parked theirs next to it for some reason, but I turned out to be terribly wrong. I waited patiently for the show to begin, after half an hour, about 5 or 6 people showed up and waited in front of the building where the stage was in. The were just being stupid and drinking beer, making themselves drunk before the show begun. They weren't even looking at me or into my direction. At one point I even decided to wait else where, because I was scared those drunk people would get out of control and start a fight, but instead of going I just turned around facing the tour buses. Then 10 minutes later after blankly staring at the tour buses, especially the deserted looking one. Then I saw Mike and Tre walk inside the deserted bus, I wasn't sure why, maybe they just wanted to see what a run down bus looked like from the inside. They didn't see me though. Then Billie walked in to the deserted bus too, I thought he would just be checking it out with Mike and Tre. It was now half an hour before the show started, the front of the concert building was now packed with people. I looked at the buses again I don't know why I was so concentrated on that deserted bus, probably because it was creepy and Green Day was in it and could come out any second hopefully noticing me. Then I saw them come out of the bus they looked really not like themselves. They looked all bashed up and deformed with no expression on their faces, they didn't look like Green Day anymore, it freaked me out. I quickly turned around and walked away. The doors were now open the people stormed in to the concert hall and I was running, I was right in front of them all, I knew I would be in the front row now, but I wasn't sure if I wanted to be in front now. I was in the front row now, as Billie was moving around the stage and standing on the edge of the stage during the show, I could see it wasn't him. This Person who is supposed to be Billie wasn't anything like him, this person wasn't moving the same way as Billie would usually move on stage. I wasn't cheering after every song, I wasn't excited, I was just standing there with my eyes closed imagining how the show would really be with the real Green Day on stage. Something happened in that deserted bus. The crowd was also not the usual crazy as they normally are at Green Day shows, they were just not feeling it. They also probably knew that something was up with Green Day. I went home after the show, with that image in my mind, that bashed up version of Green Day, the way they looked after coming out of that bus. I just couldn't forget it, as much as I wanted to. I don't know why, but that picture in my mind changed me. I was scared out of my mind, I couldn't trust anyone anymore. 3 months have gone by since that show and I decided to go to therapy because I was to scared to leave the house, I just didn't do anything anymore. I needed professional help, I was going crazy.
That's why I'm here. I told the lady sitting at the front desk in the insane asylum. She just simply replied: That's why you should've switched to Linkin Park.
The End.
I hope you enjoyed this creepy pasta! ( by the way gd is better than linkin park)😀
By the way, this whole story, as confirmed by the title, is only FICTIONAL, it is not real, neither is it based on a real experience!
This is all just made up!
Halloween is coming up, who are you going to dress up as? 
1