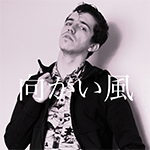 Entry posted by GenesisJames ·
540 views
The title track and last song of my little fictional album Solar Spasm. Enjoy.
Solar Spasm
Spiral into the landmass
Enter the scene
Gyrate your interspace orbit
Embed the screen
What will the future hold?
How far can neurotransmission go?
Your infinite energy
crosses the universe for you and me
Solar spasm
Solar spasm
Chorus:
The possibilities flood our unconscious
from the burst of our being
Forever has taken so long
the eruption must go on
The light that began shall end in sync
The ties that loosen have drained the ink
The stardust emboldens our mind
Set with the props of time
Radiation seeps through the shards
Abduction from the celestial enzyme
Where will we end up now?
Where will our status allow?
Our limitless battery
emblazes the tide of human history
Solar spasm
Solar spasm
(Chorus)
Navigation
The wonder of it all
Though insignificant it may be
The fascination stands tall
x3
Sampled from Underworld's "M.E.":
It's a beautiful destination
For what it's worth
A beautiful destination
Goodbye Mother Earth