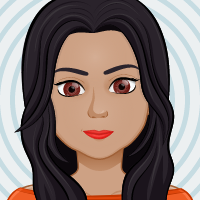 Entry posted by musso_kn ·
516 views
I don't know if The Voice is something that we are all born with, which only flourishes under the right circumstances. However, I know it has been active since I was old enough to form an opinion of myself.  I  remember thinking I was ugly and unlikeable at the very beginning of primary school. Throughout my childhood and my teenage years, The Voice grew stronger and more powerful, fuelled by the harsh words of my fastidious, traditional parents and bullies. At first, I believed The Voice was my friend. It pushed me to excel academically and to be an obedient daughter. It apparently protected me, the socially awkward kid, from any harm by reminding me I was just no good at making real friends. Yet, The Voice never rewarded, but only punished. No amount of A* grades, first class degrees and graduate job offers could convince The Voice to tell me I was worthy. They were all just a fluke. And if they weren't a fluke, The Voice would take all the credit.
The Voice became steadily more and more intelligent. It adapted to changes in my environment, and found ways to thrive. When I left home for university, I also left the bullies and my oppressive parents. Very quickly, I became more outgoing and sociable. By reminding me constantly of the shy, overweight teenager I once was, The Voice pushed me to make friends and to be a good friend, all under the guise of so called high self confidence, high self esteem and good social skills. It picked apart my appearance, alluding to the callous remarks of the year ten boys, who told me I was so ugly that I would never find love. I lost weight and started wearing make up. I got more attention and met my (now ex) boyfriend. The Voice congratulated itself.
I fell absolutely, hopelessly and deeply in love. For a year or so, I was so happy. The Voice lay dormant for the majority of the time, making only very occasional, flimsy remarks. But it was far from dead. It was just weak from a lack of negative events to fuel its purpose. Then it had its greatest chance yet. My boyfriend was white and non-Muslim, two features I knew my parents would not tolerate in any partner of mine. Thus, I kept my relationship secret for a year, uncertain of how to convince them that he made me happy. I felt guilty for keeping him a secret and even worse for lying to the two people who brought me into this world, but I knew telling them wouldn't be easy. The Voice awoke from its slumber, more aggressive than ever.
"You selfish, undeserving bitch. You're a fucking coward."
And so, after a year of dating, at the beginning of my third out of four years of university, I came clean to my parents. As expected, they were furious, and not because I'd kept it a secret. The exact chain of events is long and difficult to explain exactly, but in short, over the course of the next year, they did everything they could to punish me. They emotionally manipulated me, withdrew what financial support they could and kicked me out of the family home where I grew up and would have spent my summers and Christmases in between university terms. They stopped speaking to me entirely. The Voice turned on me.
"This is what you fucking deserve, you cretin. This is all your fault."
It seemed as soon as I told my parents, my relationship with my boyfriend began to falter. At first, I thought it was due the newfound long distance between us, as I had started a yearlong degree related internship, and he a PhD in different cities. He grew callous and disinterested, rarely coming to visit or allowing me to visit him, and constantly making snide comments about my intelligence, appearance and family. Through my tears and heartbreak, The Voice matured drastically.
"Oh stop crying, you weak bitch. It's just a joke. You expect too much from the world, you spoilt fucking cow."
I finished my internship and returned to my university city for the final year of my course, to live with four of the best friends anyone could hope for. Throughout the last four years, these people have supported me emotionally and practically, and I would not be anywhere without them.
"You don't fucking deserve them. Why don't they just let you rot on the fucking roadside?"
Their love and support helped me to see how unhappy my relationship was. No matter how much I told him he was being unfair or hurtful, he would not change/ After two and half years together, just before Christmas last year, I left my boyfriend. It was an agonising decision. I had made the effort to tell my parents about my life choices, at least partially for him. Now it felt as I was throwing it all away.
"You weak, flaky c***. You think you can do better? Bullshit. Don't fucking cry. You broke your own fucking heart."
But heart broken I was. Shortly after the break up, my housemates popped out for some groceries, leaving me alone for all of half an hour. I remembered I couldn't even call my mother for support. The dreaded feeling of endless loneliness and a distinct lack of purpose started to arise. The walls felt like they were caving in. I started panting, then sobbing, as the feeling of abandonment began to overwhelm my senses. I collapsed on the floor, beating the ground with my fists and getting more and more frustrated when it didn't give way. My housemate found me in this state. I still remember how immediately soothing her embrace and gentle instruction to "let it all out" felt.
Barely a month later and now in 2017, I half-jokingly joined a popular dating app, and met a rather arrogant but attractive man who chased me relentlessly. He held utterly appalling views with regards to women and non-white people.
"You're never going to get any better, hun. Who the fuck do you think you are?"
Unsurprisingly, he disappeared more or less as soon as he got to sleep with me. He told me I was too aggressive and not feminine enough for him to want to consider a relationship with me. The fact my parents didn't speak to me also made him think I was crazy."
"Too fucking right. You need to know your place, you arrogant, entitled bitch."
The new year did bring some good news. I graduated with a first and got an elusive graduate job near London with one of the world's biggest pharmaceutical companies.
"You. Are. A. Fraud."
With some encouragement from my friends and also The Voice telling me I was a cold hearted c*** if I didn't, I invited my parents to graduation, making it clear that, while I was single, I would happily date outside my race again. My dad turned up and a month later I went home for the first time in almost two years. I thought it meant peace.
That summer, I moved down south in preparation for new job, which started in September. I also met a friend of a friend, a genuine and lovely man, at a festival in Scotland. We spent three days together. Although it would have meant very long distance, I was determined to see him again. He took a long time to answer my texts, and eventually stopped contacting me altogether.
"Why the fuck would a true gent like that want YOU? Disgusting trollop."
As I started my first permanent graduate position, and started to experience the stresses of modern working life, The Voice employed a brand new tactic to keep me down: fantasy. It was like opium for my sense of reality. I was on the way to achieving my concept of perfection: an idyllic middle class family life, everlasting love, financial stability, and a fulfilling career. It was all I thought about – this journey to obtaining self worth through specific achievements. And my would be festival lover could be the leading man. We would not be apart if it were not for circumstance.
I clung onto this ideal for dear life for months following my trip, using it occasionally to distract me from the constant fear of being found out as an incapable, useless fraud at my new job. Then I fell out with my parents again. They told me they still couldn't accept me or my life choices, that my successes were mediocre and unimpressive and that I would end up alone and a failure. As I walked away from my childhood home once more, I was utterly heart broken. But I was also angry. The Voice took a softer approach this time.
"You *could* prove them wrong. You just need to achieve perfection. I'll let you off. But nothing less."
I lived and breathed this fantasy future. It was so much more attractive than the present, seemingly so much more in my control than the bleak past. I started to adjust at work. The Voice wasn't going to reward my progress.
"Everyone here can see how lazy you are. Stay late, you pig."
One day, I kept telling myself, we will meet again and fall in love. The Voice didn't correct me at moments like these. I was allowed to lie to myself, so long as I was aware there was a gold standard I had to aspire to, that I had to desperately want in order to achieve my worth.
This false sense of contentment, which led me to believe the counselling therapy I was now receiving was working all too quickly, inevitably shattered yesterday. Social media can be a poisonous thing. Our would be lover had found another. Upon investigation, it would appear he probably met her shortly after our weekend together.
"Fucking knew it. You would fucking repulse a nice guy like him, and he was mad enough to give you a chance in the first place! Oh, don't get upset, you pathetic, selfish bitch. Be happy for people that are better than you."
The ideal is over. I am faced with my reality. Single and alone in an expensive dreary commuter town, in a demanding graduate job, still many years away from the elusive senior positions and without the support of my family. I am forced to come to terms with the mediocrity and imperfections of my lonely, unimpressive and hateable existence. The Voice doesn't care how far I have come. It only cares how far I have to go. It tells me everything will be just fine when I complete a list of actions, only to reprimand me when I complete the job, but don't do any better.
But today was the first time in a long time that I accepted the present as being the best dimension for me to focus my attention on. It is the only time I truly have control over and can only be as happy as I am willing to make it. It was the first time in a long time I have ever made the effort to forget the mistakes and pain and the regrets of the past. It was the first time I tried to succeed in the present and for the benefit of tomorrow, without living entirely in the future. That is how I want my life to be.
To continue doing this, I need to kill The Voice. It won't die with a single shot or a stab. It has to be starved slowly of the negative thoughts that arise from unfortunate situations. It will be a long, hard road. But I have spent somewhere between 15 and 20 years torturing myself by allowing it grow to the monster it is today. I can't take it anymore. I know how bad it could get if I let it consume me.
"I don't want your sympathy
I don't want your honesty
I just want to get some peace of mind"
My friends and their families have supported and loved me through all of this, but their genuine kindness will not pull me through this alone, as grateful as I am. Silencing and killing these lifelong demons myself now is important.
"I don't want to hear it anymore"
I've had enough, and I am ready to change.
2