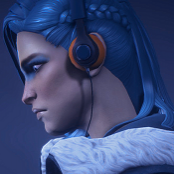 Entry posted by Lady Darkling ·
463 views
It's a very common occurrence for me to go surfing through old blog posts and stuff I've written that I've forgotten about; that's what I was doing literally a minute ago before I came to post this. I was looking through old entries on this blog, reminiscing about old times and shit I thought and wrote, and I realized how much I used to make music based entries. Like I would name the entry after a song I was really into at the moment and thought other people might enjoy as well, and would recap some of the lyrics in the entry with a link to listen to the song. I guess I'm gonna try to pick that back up right now, give it a go and see how I feel about it now.
I've been listening to like three things recently: Queen, Kpop, and Dieterich Buxtehude's complete organ works. Because I'm consistent in my musical tastes. Heh.
But a song that's been really stuck on me recently is Spring Day by a kpop boyband, BTS. It's about missing a friend, which I can relate too all too well. I'm gonna post some lyrics translations, since the original is in Korean. If you wanna check out the song, the youtube video I linked on the name has captions and they're the english subs.
You know it all
You're my best friend
The morning will come again
Because no darkness,
No season can last forever
Cherry blossoms are blooming
The winter is ending
I miss you
If I wait a little longer
If I stay up a few more nights
I'll go see you, I'll go pick you up
Past the end of this cold winter
Until the spring comes again
Until the flowers bloom again
Stay there a little longer
Stay there
It both calms and saddens me. But hopefully I'll be seeing my friends again soon, ironically in the winter. Don't think the actual weather would matter though, not as long they're there.
Fuck I'm so sappy.
Stay Dirty
-Pari
1