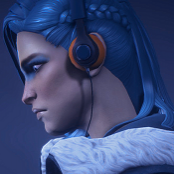 Entry posted by Lady Darkling ·
644 views
I sit on my knees and I grasp at the flesh of my palms. My nails sink into the soft mold of skin and meat, no pain. I am swelling, filling up with warm, pounding blood, plump as the ripest plum, ready to burst and paint the intricate fur of the rug underneath with the juice in my veins. At the same time, my pudgy body is sinking, melting into a puddle of human goo, indistinguishable. My nails are growing at an alarming rate, weaving through my palms and into my arms and beyond, building their own root system throughout me. I wonder if they will eventually come back out and repeat until I am so wrapped up in myself that I just lose. The fur underneath tickles my legs and rubs against the coarse hair that grows there. Could I be made into a rug? All my hair, taken along when I am skinned, and carefully cleaned and processed and softened and colored and preened. Someone else sits on the rug that is me.
I am soft. Oh so soft on the outside; I cannot be touched without being ruined, but on the inside grows diamonds. My diamond heart reaching up for my diamond brain but never reaching. Magma flowing through my hollow veins and coating it all. Growing thinner in skin and thicker inside. What am I? Dead? Alive? A human? A rug? The sitter? The seat? Plum? Diamond?
I am me, and me means nothing because it is all the words you attach to it. I have too many words attached to me, I don't know which ones are real anymore. Who am I? Everything I ever wanted? All I never wanted?
I am null, because I am both. Invalid.
Stay Dirty
-Pari
3