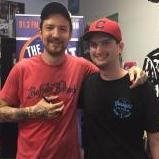 Entry posted by JardyOfSuburbia ·
2,050 views
Hey, everyone. Just wanted to provide those of you who were reaching out to me and my family an update on my dad's health.
We learned today that he does in fact have cancer again even after being labeled "cured". Where the cancer is in we don't know yet until a PET scan is done sometime here soon (date TBA).
The hope is that this cancer is just at his one lymph node and they can remove it surgically. The surgery will be done at the Cleveland Clinic where both my sister and brother-in-law work, so we're feeling confident about the surgery being done there.
Family mood is decent. We're staying hopeful and positive. What we're banking on is that the cancer hasn't spread anywhere else, the surgery will be a success and then he can start recovering.
Thanks everyone for your thoughts, prayers, concerns, etc. It means and a lot and has helped me personally feel better. My dad says he wants a joint right now

Told him he needs to come see Green Day again in August and we can take care of that

-Rage and Love-
6