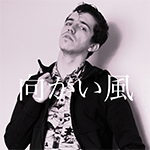 Entry posted by GenesisJames ·
523 views
New lyrics. Enjoy.
Follow Home
You gotta follow home, follow home
Don't welcome the ambiance
of every drug or every pill
Welcome the sober and the ill
We're one of many worlds
while many may say
how cold the night is
Well, y'know that's showbiz
"I'm a character of life
Who knows who I am?"
There's nothing after the end.
It hurts now and then.
But on the misty night,
as you walk on by,
nowhere to go through the foam,
go anywhere to follow home.
So many people pretend
they're watching over them
But through matter and space,
there's no spirit with a face.
Without currency or fear,
without murder or living fables,
run wherever you can
but away from where your life began.
You wipe the sweat from your eyes.
You're not preaching, but encouraging.
"I know why I live. I know why I die.
There's no stone purpose in life.
The universe has no meaning.
We merely exist."
The moon hangs, almost alive.
A sign that you must strive.
The world is not a gift;
it's a necessity.
As a cluster, a dome
Keep traveling, follow home.