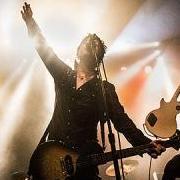 Entry posted by solongfromthestars ·
928 views
People always ask why I'd want to see a band more than once. "Don't you get bored? Isn't it just the same thing over and over?"
It's not, somehow. It's different every time. You won't find it anywhere else. Why is that, though? Now it seems like the 99 Revolutions Tour is over, maybe it's time to rewind through the memories and try to explain.
This was an unusual tour, with no real European leg, a strange US leg and no other dates at all. Then there were the cancellations, and the trilogy disappeared as soon as it happened. It was a strange time for me as well, with my partner's health problems blacking everything out... but none of those things made this tour less special.
When the US dates were rescheduled, the Chicago show happened to be on Joy's (basketcase4933 on GDC) birthday. We decided we had to go, so I bought her the tickets as a present. How we were going to find money for flights we had no idea, but after a lot of eBay, we got there in the end.
We landed in Chicago the day before the show, and did some sightseeing. It was all surreal and looking out over Illinois from the top of the Willis Tower, I felt like I was dreaming. Even when we got up at 4am the next day, ready to get to the arena for six, it still hadn't sunk in. This was the first arena show since the cancelled tour and Billie's time off. Was I nervous, excited? I don't know. I was still in a daze. The line at the arena was short, consisting of about ten people. The first ones had been there since four.
As the sun began to rise, a school bus stopped by us. Thoroughly confused, we stared blankly at the driver who got out. He asked us what we were waiting for; we told him Green Day. He leapt back into the bus and sped off, whooping and hammering his horn. Nice to see some appreciation, I guess.
It was a very different experience to lining up in England, with everyone chatty, excited and friendly. One line cutter had the best excuse - "I'm a doctor so it doesn't matter!"
6:30pm. Doors were opening at any minute. This still hadn't sunk in... then doors were open and the line became a stampede. People were leaping over the barriers and mowing down the staff. I have to admit, I've been to a lot of Green Day shows and this was the worst I've seen.
This was the first time I'd heard Bohemian Rhapsody played before the show, and my emotions were a confused mess of sadness, excitement and nerves. It was beautiful, but I was glad the bunny came along to Blitzkrieg Bop and got us all cheered up again. At the time, I didn't think 99 Revolutions would be a good opener, but it sure as hell was! I was happier than ever to see my favourite band burst into their set.
I was hoping they'd play Stray Heart, since it's quickly become one of my all-time favourite songs... so I completely freaked out when I first heard that bassline. I squealed like a little girl and Billie laughed at me. They played Disappearing Boy, which was amazing. This was the first time I'd seen X-Kid and Brutal Love, too, and they had me snuffling. Billie was so emotional singing both of them and it was beautiful.
If you watch videos of this show, there's a lot of comments whining that Billie's not as good sober, the crowd was dead, the new songs don't sound good live... that's all bullshit. Billie seemed a bit nervous, but he was amazing - he's better sober. The band were all amazing, and seemed so happy to be back on the big stage. And believe me, that crowd wasn't dead! One of the most violent and crazy shows I've been to.
We said goodbye to new and old friends, then went back to our hotel to get some sleep. The next day we tried to get some more sightseeing done, but we ended up walking up and down the same street, which is apparently the most boring place in Chicago. Great work, ladies. Eventually we found the Greyhound station, anyway, and a ten hour ride later: Pittsburgh. We'd got a super cheap deal on a posh hotel, and Joy ended up bumping into Tre in reception. He was actually quite rude, bit mean considering that it was an accident and she wasn't stalking him, but never mind.
We got the venue the next day around 7:30, and were about 10th in line. The sky spotted the Brits and started raining. We ended up sitting on bin bags for the day, and took turns to dry off in the hotel.
It was worth it. The venue was very organised - which was one hell of a relief after Chicago - and other than someone slipping under the barriers and people running forward from behind, checking tickets and getting wristbanded was actually fair. We got on the barrier almost right in front of Billie, but enough to the side for him not to block the view of everyone else. Probably the best spot possible! Waiting was exciting and I really enjoyed Best Coast, despite not liking them so much in Chicago.
The drunk bunny came along with Easter eggs, then it was time for Green Day and they sounded so fucking good. The new songs were great and it was so much fun rocking out to them all! Letterbomb is one of my favourite songs so it's always awesome to see that. Then they played Only of You and Christie Road! I have to admit that Christie Road is one of my least favourite GD songs but it was great at this show. I really didn't mind that they hardly played any new songs despite how much I love the trilogy, because all of them were so good, exciting and like new. I could live without ever seeing Brain Stew or BOBD again but I really enjoyed both of them. The band had so much energy and seemed stronger than ever, both musically and in general. Billie and Mike remembered us which was lovely.
When Billie told the girl in Longview to stage dive, I could see that she was going to land right on top of me if she didn't jump far enough. Security were trying to get me to put my hands up so I ended up half protecting my head and half trying to catch her... and she didn't jump far enough. My head took her entire body weight, then her boots hit me in the face.
Blood everywhere. Security were fussing around me with ice and water, telling me my nose might be broken. My glasses were certainly broken. Everything was lopsided. One of the security guys gave me Mike's pick and a drumstick, saying they'd cheer me up.
I felt really dizzy, then about a minute into She everything went black. I thought I was asleep in my bed at home and couldn't understand why the dream I was having was so painful. I was hallucinating for a while, then I finally woke up and found myself being carried off. At first I thought I was dreaming again. Yeah, a dream about Green Day's US tour, that's months away... then I realised. No, I'm at the Green Day show in Pittsburgh and I just got knocked out. I still had the drumstick but I'd dropped Mike's pick.
My nose wasn't broken but I felt like shit. My head was throbbing and I never really stopped feeling faint. A paramedic asked if I was alright, and I told them I was more upset about losing my spot. Apparently the last one had said the exact same thing. Ah, Green Day fans. I always wondered if anyone ever got knocked out by stage divers... now I know.
I decided there was no point being upset or bitter, and watched the rest of the show in a daze from first aid, singing out of tune. Brutal Love is always incredible, but fortunately I was too dazed to cry this time. It was nice to see Good Riddance again even though I couldn't really appreciate it.
At the end of the show Eddie (the band's security guy) walked up to me. With a little smile he handed me something.
"Mike wanted me to give you this."
"Really?!"
"Yes, really!"
It was the vest he'd been wearing at the last few shows. I couldn't believe it. My friends said the band looked really worried when I got carried off. They are such lovely people. Mike replied to me on Instagram when I thanked him for the vest which was also super cool of him. Their security/crew are lovely people too. Definitely worth getting knocked out for that!
The scar on my nose has faded, and I've managed to force my glasses back into a less lopsided shape. It's strange how it was so real at the time but feels like it never happened now.
I'd been to the Chicago show before this one, and I'd seen them a couple of other times since 21CB, at Shepherd's Bush and Rock am See. This was the first time I really thought "now that was a Green Day show."
Don't get me wrong, all of those shows were amazing, but this time they were truly Green Day again. They'd got all their confidence back, they were back in their element and it showed. I remembered why I sold all my posessions and lost everything to follow the tour in 2010. All the songs I was sick of were exciting and different again. Not that I really saw KFAD because I was half unconscious but I even enjoyed what I saw of that, and didn't wish they'd cut it out of the set at all. I can't believe anyone would complain about the setlist because every song sounded new and amazing. It beat Costa Rica which was one of the greatest shows in GD history. I definitely had the time of my life.
The fans were also lovely at this show. The people around us were actually concerned when I got knocked out, instead of trying to get in my place. Other than one woman behind us, no-one was trying to get into our spots and it was so great to just be able to dance and have fun without constantly trying to protect our spots. I don't know if it was a fluke but still, you were awesome, Pittsburgh!
Next up, Philadelphia. We didn't have a cheap deal on a good hotel this time, and ended up in a shithole next to a homeless shelter. Everyone told us to be wary of the area. I was slightly worried when I had to get on the subway alone, but I didn't get stabbed.
Some freak weather condition was affecting the eastern US, and it was freezing. The line for the show was in the worst place for it, too. The cold wind buffeted us all day while we huddled under a blanket. At times we tried to jump or run across the pavement to stay warm. We were probably known as the crazy Europeans by the end of the day. When the venue were late opening the doors, and half the queue pushed forwards for wristbands, I think we'd forgotten we were seeing Green Day and thought we'd signed up for suicide instead. Some people were saying the show was cancelled... the lateness turned out to be because security had forgotten to set up some barriers inside. Great.
There was another stampede when the doors finally opened, but it was nothing after Chicago! We got front row and at least it was warmer in there. I still felt ill after Pittsburgh, and lining up in the wind tunnel really hadn't done me any good. I was beginning to feel faint again... but the bunny stumbled onstage and finally, my Green Day energy came back.
They were amazing, just like Pittsburgh. They truly did have all their confidence and strength back. Everything sounded good. Billie forgot the words to Holiday, and while holding the torch he told us we were all in a trance and to repeat after him: "Billie Joe did not forget the words to Holiday tonight". Letterbomb was great as usual and really touched me because it seems to mean so much to Billie. And oh God, they played J.A.R. It was incredible. The crowd was so tightly packed that you couldn't really dance, but I lost my shit as much as I physically could! I saw King for a Day properly this time, and I can honestly say that despite being one of those "PLEASE NO MORE KFAD" people, it was great and I really enjoyed it. The band were just that good. Billie grabbed a giant banana from the crowd and soon put it in the appropriate place. We caught the feather boa he put on too!
I keep going on about Brutal Love, but it's just so beautiful every time. Every word Billie sang was directly from the heart. I was thinking about how the tour was over for me, and how I'd have to go back to England and leave my fiance again. I wanted to cry but I couldn't. They switched the lights off, and it seemed like it was over then; but Billie came back, looking confused and gesturing for his guitar. He played Good Riddance and for some reason that did make me cry. Then that was it.
I was dead by then. Well, not literally, but I could hardly walk, felt sick and faint; and the guy next to me had been gradually beating me up throughout the gig, which didn't help. Still, we stumbled back to the subway and finally crashed at our shithole. It was over.
Our flight home was the next day, and we left the US behind again. I'd been on a location photography assignment while I was there, so at least I had that to keep me occupied when I got home. I thought I'd really messed it up, so it was a nice surprise when I got a high grade for it.
The European leg was next, but we didn't really have anything planned. We considered Montreux when it was announced, but weren't going to bother with Emirates, since it was such a big show. But when more tickets were released, Joy decided to buy some on an impulse; and I'm so glad she did.
We arrived at the stadium the evening before the gig. It was dark and freezing cold; we were nervous, wondering how long the queue at our gate would be. It actually turned out to be mostly deserted - there were a few people scattered around some turnstiles, but none at others. When we found ours, there were some people who'd been here since the day before, and ironically, some other people from Nottingham! We pulled all our camping out gear - well, a few blankets and a camping chair - out of our suitcase and tried to get some sleep, but none of us had much luck. No thanks to Like a Rat Does Cheese suddenly blasting out and waking the few who were nodding off...
Security promised golden circle wristbands at 8:30am for the first 2500 people, so we anxiously waited, nobody daring to leave even for a few minutes. It was about 10am when they finally gave them out, and I'm sure we were all relieved to be able to get off our (numb) asses again. It was a fun day meeting lots of people and chatting with our new friends from Nottingham. One of us went to drop our bags off at our hostel and finally, it was getting close to doors opening.
We managed to get a spot at the end of the barrier on Jason's side. Doors on the East Side were opened at least ten minutes later than the others, and the stadium were ignoring the wristbands and just letting anyone in. I wasn't impressed, but never mind! It turned out to be a good spot in the end, anyway, since we were able to dance and have fun without worrying about protecting our spots.
All Time Low were average and their sex jokes definitely fell flat! The Kaiser Chiefs were great, though. They were full of energy and pumped up the crowd like an opening act should. Then eventually, 60000 people were echoing Bohemian Rhapsody and the stadium truly came to life. Green Day tore open the set with 99 Revolutions and they were happier than I've ever seen them. The crowd was louder than I've ever heard it. The atmosphere was more amazing than I've ever known it before. From where I was stood it sounded like the whole stadium was singing. They sang the words of Boulevard of Broken Dreams back at Billie unfalteringly. I was glad to see the usual trilogy songs again and even happier to see Stray Heart! I expected Burnout next, but no. Nice Guys Finish Last and Waiting. The lyrics to Waiting seemed so appropriate and Billie was full of emotion.
And then... then Missing You happened. I couldn't believe it. I love this song so much and I thought we'd never hear it live. I completely lost my mind and it's a good thing no-one was trying to steal my spot because I stopped caring. The way the crowd echoed "first time" and "over" in the second verse gave me chills. It was amazing.
The surprises didn't stop there. After Burnout they burst into Sassafras Roots, for the first time since 1997, excluding the twice they played Dookie in full. That's my favourite song from Dookie and I lost my mind all over again. It was all unreal. They were playing every song I wanted to see, and they were better than ever. They were loving it more than ever.
It was great to hear Welcome to Paradise and Going to Pasalacqua; it was great to hear anything in this stadium where 60000 people were screaming and the band were smiling so much. Billie dedicated Longview to "all the cowboys in the house" and wandered the stage in a cowboy hat, throwing in the occasional "yee-haw!" and of course, grabbing his genitals for good measure. At the end of St. Jimmy he finally gave up on years of waiting to scream "don't you fucking wear it out" and threw the mic down, grumbling "you know my fucking name" instead.
Then there were the usuals like King for a Day, Minority, American Idiot, JOS, etc. X-Kid was pretty heart-wrenching with Billie so emotional.
Eventually the show had to come to a close, with the beautiful Brutal Love (sorry). It was halfway through the song when I looked up and saw all the seats bright with people holding their lighters. The whole stadium was alive. Billie had his eyes closed and I was willing him to open them and see it, before the song was over. Eventually, he did and he smiled, looking awestruck. The cameramen realised and started to film it; then they showed it on the screens, too. It was one of the most amazing things I've ever seen. I turned away with tears in my eyes as Billie thanked the crowd one last time and the lights finally dimmed. It was over.
I hate my country, I really do. But when I hear the crowd screaming the words, see the seats alive with lighters, I remember why Green Day love this place. There's something about seeing them in your home country, too, hearing Billie scream "London!" and praise us all. For one night I'm proud to be English and I hold my flag high in the air.
Billie Joe Armstrong said it pretty well: #bestnightEVER
(Though for me, I should probably add #otherthanpittsburgh)
Fortunately, we did decide to go to Montreux, so the tour wasn't quite over yet. We stayed in Geneva for a while before the show, since Joy had lived there for ten years; then eventually got the train out to Montreux. It was the height of summer, and the heat was stifling. This was a weird show, too, with hardly anyone arriving until midday and no proper queue. Gradually the venue began to fill up, and the staff were looking worried. They'd clearly underestimated Green Day fans, and the lack of proper queue was going to be a problem.
For the last couple of hours, everyone stood up to stop line cutters and we were all crammed in. When they eventually opened the gates, nobody could breathe or move. People were screaming, falling, passing out; security were overwhelmed. A girl dug her elbows into my chest to get rid of any breath I had left, and I lost my friends fighting her off. There were about four long flights of stairs then, and more doors at the top. A frightened young girl we'd lined up with asked me to hold her hand, but when they opened the next set of doors, the surge was so bad that I lost her. I still don't know if she ended up okay or not. It was the worst I've experienced along with Chicago.
After all that, a hundred VIPs had been let in first. At this point we'd all gone insane, and even the friendliest people were shouting and pushing. We ended up in front of the amps by Jason, thanks to some lovely Finnish ladies who moved to let me in next to Joy. When the mystery support act appeared, we finally all began to forget. It turned out to be Twin Atlantic, who said they'd travelled for two days to get there. I didn't know any of their stuff but they were pretty good, I enjoyed them. It was all worth it when it was finally time for Green Day.
"Welcome to the Montreux Jazz Festival! I have no idea what we're doing here, Green Day isn't jazzy shit!" - Billie.
In Letterbomb he talked about the plane crash at San Francisco airport, and how lucky we all were to be alive. I know his speeches can seem forced and insincere sometimes, but he was genuinely emotional and meant what he was saying then. They played Let Yourself Go for the first time on this tour, and Billie threw everything into it like his life depended on it. It was intense, he was just lost in the song. The whole band were bursting with energy, but Billie especially - lots of the songs seemed even more intense than usual. Instead of "I don't wanna say goodbye" in Stay the Night, he screamed "and I'm in love with you", giving a subtle emotional charge to a song that was becoming standard.
Later they played Who Wrote Holden Caulfield as a request, which was great! The guy they pulled onstage for Longview played guitar as well as singing. Billie pulled a face at me in When I Come Around, and their two security guys remembered us from Pittsburgh which was really nice.
The venue only allowed a few of Green Day's crew to work, but those few were heroes and did a great job. It was an amazing show despite everything, and the band were at their best.
We really did think it was over, then. But one morning I woke up at 6am to an explosion on Twitter. They'd announced a secret show in London, and tickets were onsale in three hours.
I ran to wake Joy up, praying that we somehow had the money. We didn't, but we did have a phone bill about to go out, so we ditched it. They'd have to wait.
I expected tickets to sell out in two minutes like Shepherd's Bush, and getting them was a horrible mess of anxiety and panic. It turned out that there were plenty left hours later. Oh. But we were seeing Green Day in nine days. Everything turned surreal all over again.
After Shepherd's Bush we slept on the street, so we decided to get a cheap hotel this time. We got a bit of sleep there, before we left for Brixton at 3:30am. There were rats and creepy hobos everywhere. I feared for my life until the sun rose.
It was another strange day, spent tutting at line cutters - queuing is a matter of life and death in England - catching up with a few friends, and being confused about the infamous O2 Priority line. We ended up taking out a contact for an O2 phone to make sure we were safe. The staff did their best and tried to make sure the campers got in first, but it didn't really work. Still, we managed to get the end of the barrier on Mike's side, which was good for when we arrived. I really enjoyed Frank Turner.
When I listen to Blitzkrieg Bop I still see the bunny staggering onstage and feel the excitement all over again. No matter how many times you see them, that feeling doesn't go away.
Mike proudly displayed his Brixton tattoo when Billie roared "Brixton!" and introduced him as "Brixton's dad". He told us they were playing Reading and Leeds soon, but that he liked this better. Let Yourself Go was intense again, just like Montreux. Of course, at this point nobody knew they were going to play Dookie. They'd hinted, but I still didn't expect it. It was amazing to actually hear it in full and I especially enjoyed Sassafras Roots, Emenius Sleepus and In the End. Some bands sound shit when they play their old stuff but every song sounded great. Billie "forgot" the order of the songs, and asked the crowd for help. He also commented that "everyone is still masturbating after 20 years" before Longview, raising a mumble of laughter from the crowd. He stuck his tongue out and smiled at Joy too.
Before the encore, they were gone so long that people were beginning to think they wouldn't come back. It turned out that Billie had been randomly getting changed. Ah, Billie.
On the day of Leeds Festival, we were sighing and cursing ourselves for not going, when we realised that I had the money for one person... so I paid for Joy to go. I felt like I was going myself! It was so exciting. I waited anxiously for her text updates, worrying that she'd slipped and died in the mud when she didn't reply. She hadn't, though; she texted me saying that she'd just got there in time for Know Your Enemy, and was about ten rows back on Mike's side. I knew she wouldn't text again after that, so I impatiently attacked the refresh button, watching the thread on GDC. I still kept worrying that she'd died in the mud, and hoped for her sake that they wouldn't repeat Woodstock.
People were saying they'd played all kinds of stuff, which was bullshit, but I was excited (and relieved) to get Joy's text confirming that they did cover A Quick One, and Billie played Walk Away acoustic. The show was amazing, and she eventually got home safe the next morning, covered in mud almost up to her waist. I really did feel like I'd been there myself. But that really was it. The 99 Revolutions Tour was over.
Maybe the answer to that question - "why would you want to see a band more than once?" - is that it's not just a bunch of great rock shows. It's even more than that. These experiences have made me who I am today. I have Green Day to thank for finding my way. It's trendy now to say a band saved your life... but they saved mine before it was cool.
That's why I love this band.
6