Green Day - Emirates Stadium, June 1st 2013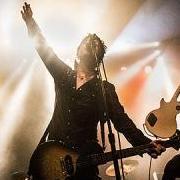 Entry posted by solongfromthestars ·
897 views
We arrived at Emirates Stadium the evening before the gig. It was dark and freezing cold; we were nervous, wondering how long the queue at our gate would be. It actually turned out to be mostly deserted - there were a few people scattered around some turnstiles, but none at others. When we found ours, there were some people who'd been here since the day before, and ironically, some other people from Nottingham! We pulled all our camping out gear - well, a few blankets and a camping chair - out of our suitcase and tried to get some sleep, but none of us had much luck. No thanks to Like a Rat Does Cheese suddenly blasting out and waking the few who were nodding off...
Security promised golden circle wristbands at 8:30am for the first 2500 people, so we anxiously waited, nobody daring to leave even for a few minutes. It was about 10am when they finally gave them out, and I'm sure we were all relieved to be able to get off our (numb) asses again. It was a fun day meeting lots of people and chatting with our new friends from Nottingham. One of us went to drop our bags off at our hostel and finally, it was getting close to doors opening.
We managed to get a spot at the end of the barrier on Jason's side. Apparently doors on the East Side were opened at least ten minutes later than the others, and the stadium were ignoring the wristbands and just letting anyone in. I wasn't impressed, but never mind! It turned out to be a good spot in the end, anyway, since we were able to dance and have fun without worrying about protecting our spots.
All Time Low were average and their sex jokes definitely fell flat! The Kaiser Chiefs were great, though. They were full of energy and pumped up the crowd like an opening act should. Then eventually, 60000 people were echoing Bohemian Rhapsody and the stadium truly came to life. Green Day tore open the set with 99 Revolutions and they were happier than I've ever seen them. The crowd was louder than I've ever heard it. The atmosphere was more amazing than I've ever known it before. From where I was stood, it sounded like the whole stadium was singing. I was glad to see the usual trilogy songs again and even happier to see Stray Heart! I expected Burnout next, but no. Nice Guys Finish Last and Waiting. The lyrics to Waiting seemed so appropriate and Billie was full of emotion.
And then... then Missing You happened. I couldn't believe it. I love this song so much and I thought we'd never hear it live. I completely lost my mind and it's a good thing no-one was trying to steal my spot because I stopped caring. The way the crowd echoed "first time" and "over" in the second verse gave me chills. It was amazing.
The surprises didn't stop there. After Burnout they burst into Sassafras Roots, for the first time since 1997, excluding the twice they played Dookie in full. That's my favourite song from Dookie and I lost my mind all over again. It was all unreal. They were playing every song I wanted to see, and they were better than ever.
It was great to hear Welcome to Paradise and Going to Pasalacqua; it was great to hear anything in this stadium where 60000 people were screaming and the band were smiling so much. Billie dedicated Longview to "all the cowboys in the house" and wandered the stage in a cowboy hat, throwing in the occasional "yee-haw!" and of course, grabbing his dick for good measure. At the end of St. Jimmy he finally gave up on years of waiting to scream "don't you fucking wear it out" and threw the mic down, grumbling "you know my fucking name" instead.
Then there were the usuals like King for a Day, Minority, American Idiot, JOS, etc. X-Kid was pretty heart-wrenching when Billie's voice nearly cracked at the end. It's beautiful that his heart is really in his writing like that.
Eventually the show had to come to a close, with the beautiful Brutal Love. It was halfway through the song when I looked up and saw all the seats bright with people holding their lighters. The whole stadium was alive. Billie had his eyes closed and I was willing him to open them and see it, before the song was over. Eventually, he did and he smiled, looking awestruck. The cameramen realised and started to film it; then they showed it on the screens, too. It was one of the most amazing things I've ever seen. I turned away with tears in my eyes as Billie thanked the crowd one last time and the lights finally dimmed. It was over.
We snapped back to reality and began to make our way back to our hostel, with Liam who we were staying with. Eventually, after a lot of wandering around we found out that Arsenal underground station was open after all, and got a free trip, which was nice. We were glad to crash but the hostel was rubbish, don't stay at the Generator.
Then the next morning it really was over; we said our goodbyes and headed back to the bus station. I'd rather be back at Emirates Stadium in the freezing cold now, but I know I was bloody glad to see my own bed that night!
I hate my country, I really do. But when I hear the crowd screaming the words, see the seats alive with lighters, I remember why Green Day love this place. There's something about seeing them in your home country, too, hearing Billie scream "London!" and praise us all. For one night I'm proud to be English and I hold my flag high in the air.
Billie Joe Armstrong said it pretty well: #bestnightEVER
6