Green Day - Pittsburgh, March 31st 2013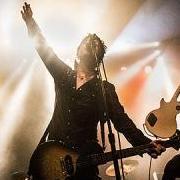 Entry posted by solongfromthestars ·
950 views
I'm late but here's my recap of the Pittsburgh show. I already posted it in the thread but it was pretty much the best Green Day show ever so may as well post it here too!
We got to the venue around 7:30-8 and and were about 10th in line. It rained nearly all day and we had to go and dry off in the hotel a few times, but it was so worth it. The venue was super organized (which was a massive relief after Chicago) and we got on the barrier right in front of Billie. Waiting was exciting and I really enjoyed Best Coast. I recommend The Only Place and When I'm With You if you want to check them out.
The drunk bunny came along with Easter eggs, then it was time for Green Day and they sounded so fucking good. I'd seen the guy who got onstage in KYE in line, so it was nice to see him get up there even though I didn't speak to him. The new songs were great and it was so much fun rocking out to them all! Letterbomb is one of my favourite songs so it's always awesome to see that. Then they played Only of You and Christie Road! I have to admit that Christie Road is one of my least favourite GD songs but it was so good at this show. I really didn't mind that they hardly played any new songs despite how much I love the trilogy, because all of them were so good, exciting and like new. I could live without ever seeing Brain Stew or BOBD again but I really enjoyed both of them. Some people thought St. Jimmy would be no fun now Billie's sober, but not at all - it's probably even better. The band had so much energy and seemed stronger than ever, both musically and in general. Billie and Mike remembered us which was awesome too.
When Billie told the girl in Longview to stage dive, I could see that she was going to land right on top of me if she didn't jump far enough. Security were trying to get me to put my hands up so I ended up half protecting my head and half trying to catch her... and she didn't jump far enough. My head took her entire body weight, then her feet hit me in the face.
Blood everywhere. Security were fussing around me with ice and water, telling me my nose might be broken. My glasses were certainly broken. Everything was lopsided. One of the security guys gave me Mike's pick and a drumstick, saying they'd cheer me up.
I felt really dizzy, then about a minute into She everything went black. I thought I was asleep in my bed at home and couldn't understand why the dream I was having was so painful. After hallucinating for a while I finally woke up and found myself being carried off. At first I thought I was dreaming again and then I realised, um no I'm at a Green Day show in Pittsburgh and I just got knocked out. I still had the drumstick but I'd dropped Mike's pick.
My nose wasn't broken but I felt seriously shitty. My head was throbbing and I never really stopped feeling faint. I always wondered if anyone ever got knocked out by stage divers... now I know.
I watched the rest of the show in a daze, singing out of tune. It was nice to see Good Riddance again even though I couldn't really appreciate it. Brutal Love was incredible too! Then at the end of the show the band's security guy walked up to me with something and said "Mike wanted me to give you this."
"Really?!"
"Yes, really!"
It was the vest he'd been wearing at the last few shows. I couldn't believe it. They're such lovely people. Best souvenir ever!
This show really reminded me why I sold all my posessions and lost everything to follow the tour in 2010. All the songs I was sick of were exciting and different again. Not that I really saw KFAD because I was half unconscious but I even enjoyed what I saw of that, and didn't wish they'd cut it out of the set at all. I can't believe anyone would complain about the setlist because every song sounded fresh and amazing. I definitely had the time of my life.
5