Flo loves Squirrel Porn <3
Entry posted by Florence ·
2,355 views
NO


not really. But now that I have your attention, you perverts...
I like squirrels a lot!

Every morning a squirrel family comes to visit my backyard....
Find all 5 squirrels:
lol don't question the random umbrella!


videos

http://www.youtube.com/watch?v=k9lNJ0W6q8I
they don't like to share nuts with birds. xD
http://www.youtube.com/watch?v=9eUZUrtQ23k
There's a road between the forest & my house and I was afraid that they could get run over by a car

so I made a "Warning! Squirrel" sign...
Yes.
Now everyone drives slower past our house (probably because they scratch their heads and think: "WUT

"

**poses with a nut & the sign**

Well, this was a random blog entry.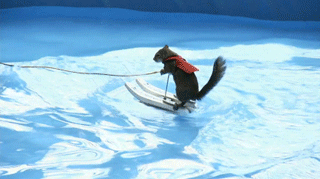 6