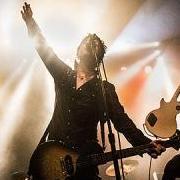 Entry posted by solongfromthestars ·
1,478 views
Here's my Tré review/commentary. You can find my Uno and Dos ones here, if you want to follow my interpretation of the "story". As usual I'm not trying to imply anything about Billie himself, unless I mention him - these interpretations are all personal.

Tré opens with Brutal Love. The song is everything the title promises; it's brutal, it tears your heart out like you're feeling what Billie's feeling. I love it.
In context of the story, the metaphorical "party" of Dos is over and the couple are left with the wreckage; the consequences of their lust-driven actions, and the uninvited evolution of their relationship. The narrator doesn't seem to have had much luck with love in the past, and he's almost scared to continue chasing the one he still "can't have"; but he accepts that he's brutally in love with this new woman, despite the pain it's causing him.
He stresses that again in Missing You, realising that something is missing now she's gone and he's not complete without her. He's remembering, and asking her to remember too, the first time he said he loved her at the bus station; and promising her that it's not over yet. Although it might seem a little average on a first listen, with a killer bass solo and some simple but sweet lyrics, there's not much to dislike about this song.
8th Avenue Serenade is one of my two favourite songs from the album. The lyrics are beautiful and there's something so sweet about it. It's called a serenade and it really feels like one.
It seems that the narrator and his new love are reunited again. There's something that almost feels frantic and desperate about it, too, as if there's something to prove by meeting at the bathroom stall or Whispering Wall (which is a space at Grand Central Terminal where two people can stand at opposite sides of the room, and still hear what they're whispering). Maybe this is the stepping stone to the next stage of their relationship, evolving into far more than the lust of Dos.
Drama Queen has evolved from a simple song that was meant for 21st Century Breakdown, into a beautiful ballad with piano and electric guitar. They suit it perfectly. Billie has mentioned it's about celebrity life, but it could also fit into the story here, as a simple reference to the female character; stressing her young age again.
The album swerves away from love and into other aspects of life in X-Kid. Billie has explained this one too, as being about a friend who committed suicide. This is a brilliant song that wouldn't have been out of place on an older Green Day album. A song doesn't have to be slow and emotional to pull at your heartstrings; this one is proof of that.
Sex, Drugs & Violence and Little Boy Named Train see the narrator looking at himself, seeming insistent that he's lost and a mess; regretting his life choices; musing over the hard lessons he's learned and how he feels he did it all wrong. This is the doorway to the rash of "leaving the past behind" songs that litter this album. Little Boy Named Train also has a very deep story behind it, but musically it's my least favourite song on the album.
In Amanda, Billie has finally decided to "name the girl" who's haunted him for so many years; he seems to have answered the question of Is this the kind of love that hate would understand? that has nagged at him for so long. It's a great addition to the story, stressing the theme of leaving the past behind even more. This one had to grow on me, but it's a decent song that you could dance to.
Walk Away is another song that grew on me after a few listens, with its haunting vocals and questioning lyrics. The narrator decides that it's not too late to finally stand up to the memories, and truly walk away from his life for the new love he's found. Now he's faced with the confusion and mess of that, and back to battles with his inner demons in Dirty Rotten Bastards. This definitely comes across as a unique and great song after a few listens, and it portrays perfectly the confusion and self-loathing that the narrator is feeling.
99 Revolutions turns the focus away from the narrator's personal life and into the streets, an echo of American Idiot and 21st Century Breakdown's politics; but more lighthearted, despite the seriousness of the lyrics. My favourite song from Tré! A great closer for a live show and a brilliant, uplifting song that sparks an urge to dance.
The Forgotten is another beautiful ballad, and just like Uno and Dos, they've chosen the perfect closer to end the album... except this one ends the entire trilogy. It's the perfect closer for that too.
The narrator is finally able to embrace his past as what it was, saying that he hasn't forgotten it despite starting a new life now. He doesn't know what the future will hold, and he knows they're living in a bad dream now, but assures his new love not to look away from the arms of tomorrow... or the arms of love.
10