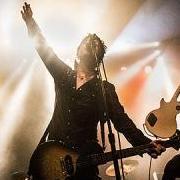 Entry posted by solongfromthestars ·
1,985 views
Here's my written reviews/commentaries of Uno and Dos. They're just interpretations and comments on each song, really. Everything about the vague "story" is totally personal, I just want to stress that I'm not implying anything about Billie himself at any point unless I say that. Enjoy!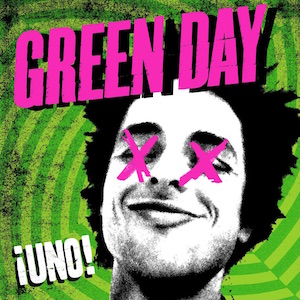 Gonna ride the world like a merry-go round...
The perfect opener, Nuclear Family sets the scene for the entire trilogy. Although I know none of them are deliberately concept albums, I do see a vague story, so that's what my interpretation is. The narrator is a man stuck in his stagnant nuclear family life, realising that he's sick of it; he needs something new. A nuclear bomb about to detonate.
I've probably heard Stay the Night too many times since we first got that live version from Dublin, but it's still an anthem. It's a song about not being able to forget someone, needing to know if they're the one that got away; even though it feels like it was never meant to be. With lines like I wanna break your heart until it makes your stomach churn you could wonder if the narrator wants to hurt the person he's speaking to, but in the second verse you realise that all he really wants is to watch the stars until the sun begins to rise; he's just trying to hide his tender feelings because maybe he's afraid of getting hurt.
Does the future have enough time to live in the moment?
That's the note on Carpe Diem in the Uno book, and I think it describes the song perfectly. The narrator, still stuck in his miserable everyday life, is trying to decide whether to turn his back on it and seize the day while he still can.
I do like this song, but it seems more average than some of the other songs on Uno. It has a great message, though.
I remember being so excited to hear the studio version of Let Yourself Go because it sounded so damn good live... and one of the things that makes Uno so special is that as much as it's possible in the studio, the songs still have a live feel. It works so well with this one, I love it. The perfect fuck you song, the narrator has found the courage to tell the people around him what he really thinks, and is finally trying to let it all go. I'm sick to death of your every last breath and I don't give a fuck anyway...
The last thing you'd expect from Green Day, Kill the DJ is probably the most adventurous song on Uno. It works, too. It makes you want to dance, it's sexy, it's interesting.
A lot of DJs probably expected Billie to show up and stab them in the night, but the DJ is just a metaphor. It's the noise, the shit we're fed from so many different places in the first world. It's about drinking yourself into oblivion, the voices in your head. I couldn't work out whether I loved or disliked this song, but I decided that I love it.
Fell for You is my favourite song on Uno. It captures perfectly that moment of "oh shit" when you realise that you've fallen head over heels in love; trying to be "big" and deny it, but you can't. The girl the narrator's fallen for might be out of sight now but she's not out of mind. He's dreaming of only her; he's not supposed to be in love with her, it's almost frightening, but he is. It's beautiful, and it shows that brutally honest side of love that has nothing to do with sex... which is probably why it's so touching and easy to relate to.
Filled with anger, Loss of Control is the harsh realisation that you hate everyone around you; they've all changed and you start to think you never liked them in the first place. It might be well hidden, but there's a real sadness in there too. Life's a cruel crushing bastard crime probably translates to "life's not fair". It's not, and maybe that sparks the narrator's decision to turn his back on it and pursue the girl in Fell for You.
It took me a while to appreciate Troublemaker properly, but I got there eventually. It's as brutally honest as Fell for You but completely different. The narrator wants more than the dream of kissing her lips now. It's a song about being a guy, lusting after the girl he wants so much that thinking of her is giving me a cardiac arrest when I'm sitting at the traffic light.
I say Fell for You is my favourite, but it's a really hard decision between that and Angel Blue. They're both totally outstanding songs for me, and this one is full of energy with some seriously awesome guitar riffs.
Now the narrator has truly decided to pursue this girl, but she obviously hasn't committed to it yet. I can't help hearing won't you be my bloody Valentine? as we'd say it in England, but it's probably a metaphor for wanting to take the girl's virginity. The lust is as evident as it is in Troublemaker, but there's still hints that it's more than that; Stab my heart like a stick in the mud / Cut my chest just to see the blood / Now I'm singing out the alphabet / As the tears are putting out my cigarette. It's filled with desperation, knowing that she wants to but she won't, and wanting to hurt her in return because she's tearing him apart. There's also the battle with commitment, knowing that this is "wrong" not just because he's married, but a lot of the phrases in the song stress her young age; bloody Valentine / senorita / you're just a fucking kid / teenage traces.
Sweet 16 is the only song I found disappointing. It's probably my fault for listening to a bad live recording where it sounded better, but it's dull and just doesn't have the energy that the rest of Uno has. The emotion in Billie's voice is beautiful, though, and it does perfectly represent the nostalgia of being in love with a memory, despite the bittersweet haze that surrounds the present. Definitely my least favourite trilogy song so far.
Billie has pretty much explained Rusty James perfectly. It's a "fuck you" to the old scene that the band were once a part of, filled with bitterness. The title is a reference to the book Rumble Fish. In the context of the "story", I think it adds to the general "goodbye to the past" vibe that's lurking in the latter songs of Uno.
I did overplay Oh Love when it was released, and I wasn't a fan of Sam Bayer's video (not because of the content, but because it was so badly done), but that doesn't stop it from being the perfect closer.
It finally moves solely onto the new love - and sexual tension - that's been haunting the narrator since Stay the Night. Everything else has been left behind. After the, er, Sam Bayer incident, a lot of people saw this song as being about cheap one night stands and sex with no strings attatched. I still don't see it that way. It's full of lust and desire, but love is a part of it too. Oh love, won't you rain on me tonight? / Won't you take me close to you? - please, can he finally have this girl? I'm wearing my heart on a noose / Talk myself out of feeling / Talk myself out of falling in love; he's still trying to hold himself back, but in the end he gives in. Tonight my heart's on the loose...
After getting over how much I overplayed this song, it's actually one of my favourites from Uno. It's an anthem that's exactly what it's supposed to be. Love it.
Favourite songs: Fell For You, Angel Blue, Kill the DJ and Oh Love.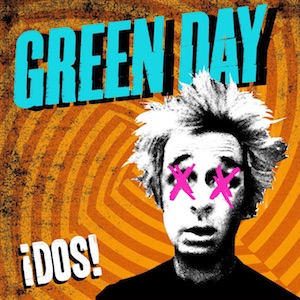 Dos opens with the sweet and simple See You Tonight, with the narrator innocently musing over whether he'll see someone tonight or not. He evidently does, because the hazy innocence is suddenly interrupted by the thud of Fuck Time. The title speaks for itself, but although this song's just simple fun, the silliness has been muted enough for it to not sound completely ridiculous.
It doesn't stop there. If we're talking about this in terms of a story, let's go back to Uno for a moment; it closes with Oh Love, promising that tonight my heart's on the loose. The narrator is finally getting the girl from Angel Blue to surrender. You don't have to analyze anything to realise what's going on here.
After Stop When the Red Lights Flash, Dos suddenly lurches away from sex into the darkness of Lazy Bones. When this new girl isn't there, the narrator's life and his underlying sadness comes back to haunt him. A lot of people are linking this song to Billie's recent problems, but there's no reason why it has to relate to that at all. It's a song about desperation, sadness, frustration; being drunk is only one of the many symptoms that comes with all of the above. Musically, this song is literally breathtaking. The only problem is that it's so ridiculously good, it's probably easy to overplay.
In Wild One, the relationship the narrator sought is flowering now. Despite the lust and desire that overshadow most of this album, he's obviously falling more in love with this girl the more he gets to know her; even though he's not supposed to and it's putting his heart in danger. I don't think She gave up on Jesus / For living on Venus is literal, but more of a metaphor for the girl abandoning her "normal" life for love and lust. They both know it's wrong but they don't care. I jumped on the grenade... but ...Now that my mind's gonna blow, hello anyway.
This song is beautiful. I love the heavy guitars, the backing vocals, the lyrics.
There's not much to say about Makeout Party. It's dirty, open, with the same fun vibe as Fuck Time and an awesome bass solo. I think the lyrics speak for themselves! Afterwards comes the beautiful, catchy Stray Heart. This is my favourite song from the trilogy. It's so sweet and innocent, with the bittersweet happiness of being in love clashing with the fact that this girl's forbidden. There's a sad desperation too, masked by the happy bassline and fun vibe. We'll never part yet I just can't have you is a contradiction that confused a lot of people, but I see that as they'll never part, yet he can't really have her because he already belongs to someone else. The heart which is now stray went to another a long time ago... but she's the only one he's dreaming of. This relationship has torn her precious heart apart.
Slightly reminiscent of The Jam's Town Called Malice (which is in turn another rip off of another song) or not, this song is perfect.
Ashley is an anger-filled fuck you to the narrator's past, maybe a metaphor for all of his previous relationships. He's finally grown up and realised what they really were; and now with this new love, he's able to move on and let go. Are you crying on my cold shoulder? is one of my favourite lines from Dos, and proof that Billie is still capable of writing incredible metaphors. With an intro that seems slightly clumsy after Stray Heart, I warmed up to this song after a few listens. It seems very strange now that I felt it was filler at first!
Baby Eyes sees the out-of-control narrator insistently spitting out all his faults, warning the girl how he really is; maybe going back to that line Your precious heart was torn apart by me and you, aware of how he's now tearing apart her life. This is another one that's appreciated more after a few listens, and is probably my favourite song on Dos after Stray Heart. It has so much energy and is lyrically my favourite trilogy song so far. Some of the lines/metaphors are just incredible - Year of the rat, last of the litter / Somebody shot the babysitter / ... / I pull the trigger from the shooting stars / I am the motor in your crashing car / ... / I am the bullet in your magazine. Billie's songwriting is truly at its best in this song.
The album takes another turn with Lady Cobra. A great song, not repetitive at all; openly dark and dirty. It talks about seduction and inner demons, implying a romantic attachment, but I don't think it actually means that at all. The seduction probably refers to encouraging the narrator into things like alcohol, drugs, self-harm, etc; and even daring him to do crazy things. The note on the song in the boxset edition is "Drive up this road, hang a left, then go down, down, down, blackout & take your hands off the wheel" - that's a perfect example of one of those crazy things. Maybe she even encourages him to go further with this forbidden girl... either way, she seems the perfect companion for the narrator in his current state.
Lady Cobra almost like an introduction to what comes next... the dreaded Nightlife. Green Day and rap? Disaster? I don't think so, actually. On my first listen I thought they could really have left Lady Cobra out at her second part, but with each listen it grew on me more and more. It's inevitable that many fans are going to hate it, but if you can get past your dislike for rap, it's actually a really great song. The sleazy beat fits the lyrics perfectly, digging further into the dark and dirty theme of Dos. Lady Cobra gives it the sexy feel that it needed. Never thought I'd be listening to rap on the train, but there you go.
Back to the relationship that's plagued this album, Wow! That's Loud lives up to its name. The title and the line Wow! That dirty dress is so loud are slightly cringey, but when it's lost in great lines like You're such a beautiful mess tonight you hardly notice it. This song has some amazing guitar riffs and harmonies, and sees the narrator obsessed even with this girl's bright clothing; it could be literal and it could also be considered a metaphor that reflects her personality, or their chaotic relationship. The (metaphorical) party's coming to an end.
I know that there's no literal party happening anywhere in the trilogy, but I think that's a reasonably good metaphor for what's going on; giving in to temptation, getting involved in shit you shouldn't, just losing control... and then it's over. Amy, the beautiful and tender tribute to Amy Winehouse, is the perfect closer. Maybe it fits into the story; maybe the couple are coming to terms with reality, realising that life's not a party... what have they done? Tre will apparently be the self-reflection and (metaphorical) morning after.
Favourite songs: Stray Heart, Baby Eyes and Wild One. Although I do love Lazy Bones and Ashley... this picking favourites shit is too hard.
Overall, both of these albums exceeded my expectations completely. I'm not the kind of person who loves something just because it's Green Day, so I'm seriously impressed that I love almost every one of these songs. There's probably more that I'm not as bothered about on Uno, but I still don't prefer Dos. They're both completely different and equally amazing. There's some songs where Billie is as much at his best lyrically as he was with 21st Century Breakdown. If Tre is better than these two then I have no idea what to expect.
Edit - here's Tre: http://www.greendaycommunity.org/blog/127/entry-1192-tr-reviewcommentary/
5